Weed, gambling lobbyist steers clients' cash to support Clark County state senator
Sen. Ann Rivers survived a tough primary challenge from the right, but now faces a write-in campaign
One of Olympia's most prominent lobbyists, whose clients include the weed industry and the state's largest non-tribal gambling operator, is using a pile of special-interest money to support Republican state Sen. Ann Rivers, who has both a Democratic opponent and a conservative write-in candidate coming at her from the right.
Rivers, R-La Center, represents the exurban 18th District in northern Clark County. A political moderate, she fought off a bruising primary challenge from the right in August, squeezing past conservative John Ley, who had the backing of the Clark County Republican Party. She faces political novice Rick Bell in the general election. On paper, that race looks lopsided in favor of Rivers, who won reelection in 2016 with 63 percent of the vote.
But there's a wild card: Former Republican state Rep. Tom Mielke recently launched a write-in-campaign, and has raised more than $10,000 for the effort from some of Clark County's richest citizens. Like many conservatives in the 18th, he's unhappy with Rivers, particularly over her support for the plan to replace the Interstate 5 bridge between Vancouver and Portland, something she had previously opposed.
Rivers has raised more than $241,000 for her campaign and has $111,000 on hand, according to her most recent filings with the Public Disclosure Commission. Bell has raised just $24,000, mostly by loaning himself more than $17,000.
Meanwhile, the Effective Leadership Committee PAC, led by lobbyist Vicki Christophersen, raised more than $173,000 to defend Rivers, and spent about $39,000 supporting her ahead of the primary. This week the PAC disclosed a new $15,864 direct mailing on Rivers behalf, which is likely the first of several. State law prohibits the PAC from coordinating with Rivers' campaign. Neither Christophersen nor Rivers returned messages from the Observer. Here are the top donors to the PAC: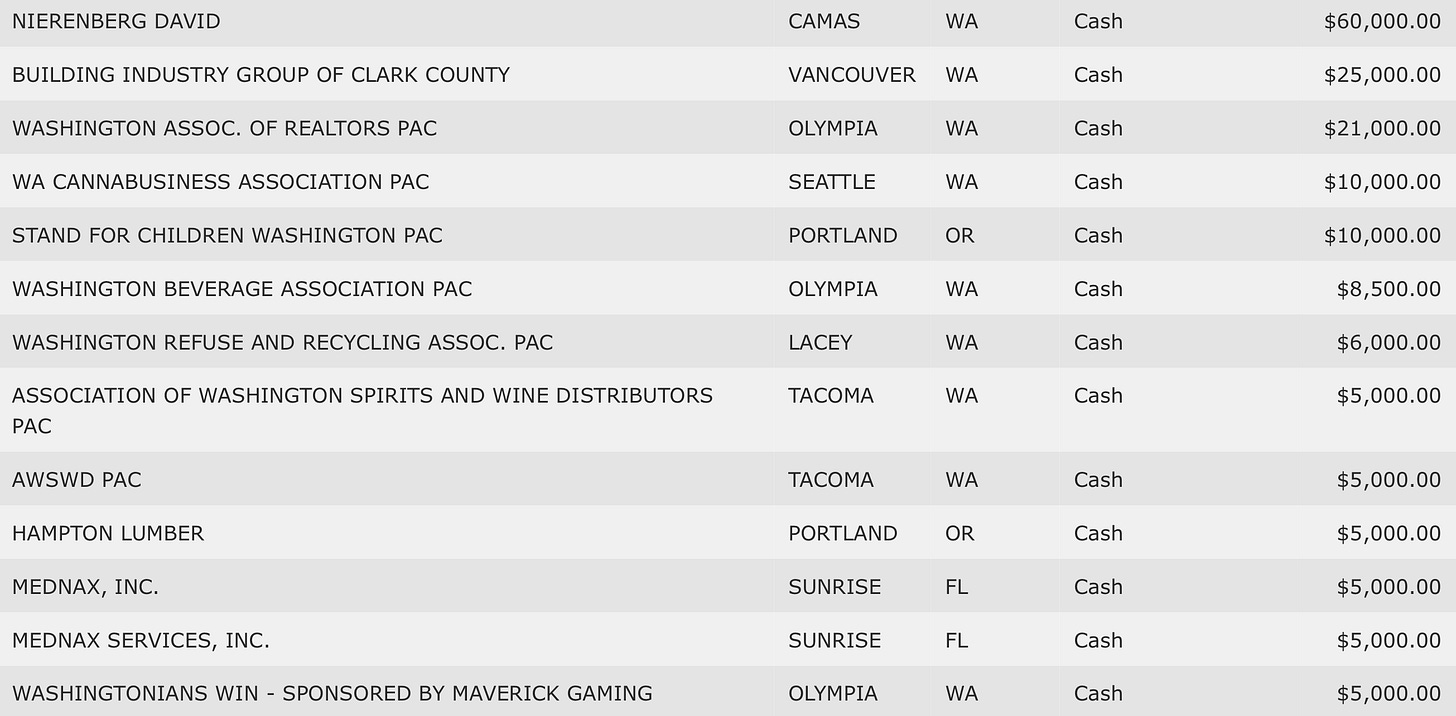 Christophersen is best known as the head of the Washington Cannabusiness Association, which represents growers, processors and retailers in Washington's legal marijuana industry. But her firm boast an impressive book of other clients, which astute readers will notice is a close match to the list of PAC donors above.
Notable among her current clients is Maverick Gaming, a Nevada-based casino company that has systematically bought up 19 non-tribal card rooms in Washington in recent years.* Earlier this year, Maverick took a heavy loss when the Legislature voted overwhelmingly to legalize sports wagering only in tribal casinos. Rivers was among 15 senators who voted against that bill.
The pro-Rivers PAC's biggest donor, David Nierenberg, is a prominent Clark County philanthropist and political player who has given significant money to both political parties and to a range of moderate candidates. This year he gave money to Democrat Denny Heck's campaign for lieutenant governor, Republican Secretary of State Kim Wyman's bid for reelection, and Republican Raul Garcia, who finished out of the money in the primary for governor despite a late surge of high-profile endorsements. Nierenberg is also among the most prominent advocates for the I-5 bridge replacement.
Write-in campaigns rarely produce a winner, but they can pull off enough votes to spoil a win for someone else. And there's history on this in Clark County. Republican U.S. Rep. Linda Smith was first elected in 1994 after winning a write-in campaign in the primary.
Rivers' opponents have some ammo to work with. Her bitter primary battle with Ley featured accusations that Rivers' husband had sent Ley threatening texts, and an ethics complaint filed by a donor to the Clark County Republican Party accusing her of trying to pressure him into earmarking $5,000 of the money for her campaign in return for future help. The Legislative Ethics Board found that she did ask for the money, but that her promise of help was too vague to be a violation of the law.
For now, Rivers looks to have enough breathing room to survive. But if President Donald Trump's plummeting poll numbers translate to a big Democratic year even in conservative areas like the 18th, and if Rivers just barely survives, she'll know whom to thank.
---
*Gambling in Washington in is mostly limited to casinos owned by Native American tribes. But a handful of "mini-casinos" or "enhanced cardrooms" that predate the boom in tribal casino development survive. They're limited to poker and variations of blackjack. Previous attempts to expand the forms of gambling they can offer — most notably a 2004 ballot initiative to allow slot machines — have failed.
---
Thanks for your attention. The Washington Observer is an independent newsletter covering politics, government and the influence thereof in Washington State. If you enjoyed what you just read, please share it widely with your network. If' you're not already a subscriber, please join us.