Campaign cash: Culp finally gets some GOP dough, more $ pours into OSPI
Realtors protect their primary win in wine country; Lobbyists still helping Rivers
Early this month we reported that Loren Culp was getting no love from the Washington State Republican Party in his long shot bid for governor, and that the party's billionaires weren't there for them as in past years. Well, they eventually showed up, sort of, in the way you go to the wedding and bring a token present when you don't approve and you know it won't last.
The party coughed up $160,000 for Culp on Oct. 14, according to the Culp campaign's filings with the Public Disclosure Commission. That's less than 10 percent of the more than $1.6 million the Washington State Democratic Party has poured into Gov. Jay Inslee's reelection bid. It's substantially less than the Democrats gave Gael Tarleton, their candidate for Secretary of State. They probably would have given their candidate for lieutenant governor money, but there are two of them, and that would be awkward.
The Republicans did get a few rich donors to show up, though. Brian Heywood of Redmond chipped in $100,000, the party's largest single donation from an individual this year, while Steve Gordon of Lake Tapps, who founded Concerned Taxpayers of Washington State, kicked in $75,000. Bellevue property developer Kemper Freeman, one of the largest backers of Republican candidates historically, gave $46,000.
But the big Democratic givers are still ahead. Rosanna Orr, one of the D-leaning millionaires and billionaires we wrote about last month, bumped her contribution $100,000 on Oct. 5 for a total of $350,000, while Cynthia Sears, a longtime big donor from Bainbridge Island, added $100,000 on Oct. 17 to join the six-figure club at $155,000 total. Thirteen donors gave more than $50,000, compared to two for the GOP.
---
Pro-Reykdahl group keeps spending big in OSPI race
Strong Public Schools, the biggest outside spender on the race for Superintendent of Public Instruction, dumped another $240,000-plus into direct mail, digital advertising, and text messages for Chris Reykdahl and against Maia Espinoza. The disclosure indicates a big mailer opposing Espinoza, whose over-the-top lie on the public dime we wrote about last week. Most of the money comes from the Washington Education Association, the politically powerful and active teachers union.
Espinoza's campaign, meanwhile, is going big on electronic get-out-the-vote efforts, including more than 300,000 robocalls and more than 200,000 text messages.*
---
Realtors continue to spend on the 16th in wine country
The Washington Association of Realtors are protecting their investment in the state Senate race in the 16th District, where they spent heavily on some hardball this summer to influence the Republican side of the primary. Their latest mailer opposing Democrat Danielle Garbe Reser went out Tuesday, bringing the Realtors' spending against her to more than $37,000.
Reser only got 35 percent of the vote in a a three-way primary, but she's raised more than $450,000, which is gigantic for a non-incumbent. That includes $93,000 from the Democratic Party, and maximum donations from a broad array of smart money. All of this indicates the race has tightened. Here's an example of the mail against her: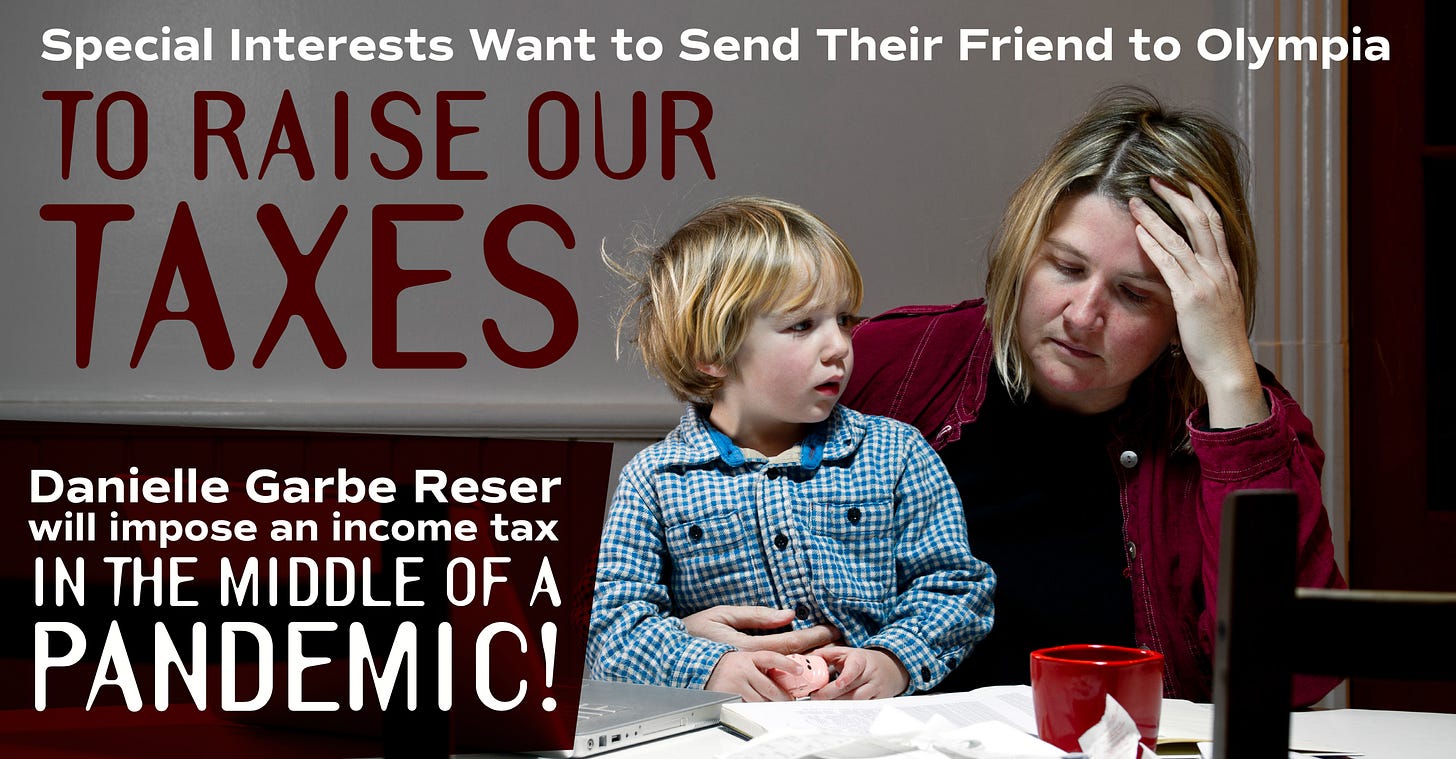 ---
Lobbyist-driven PAC still spending to protect Sen. Rivers
That write-in campaign against Republican Sen. Ann Rivers in Clark County's 18th District still has some lobbyists worried. The Effective Leadership Committee, led by the state's leading weed and gambling lobbyist, has now spent more than $150,000 defending Rivers, who has both a Democratic opponent on the ballot and a spoiler write-in campaign from the right. As we reported, Rivers is crosswise with the conservatives who control the Clark County Republican Party.
The Committee to Hold Effective Officials Accountable (Really, folks, I don't make these names up) has so far spent more than $22,000 against Rivers. That money came from Eric Temple, the railroad executive who accused Rivers of shaking him down for campaign money, and something called Peculiar Ventures in Kirkland, which looks, um, kinda Russian.
---
*If you're getting interesting political mail, robocalls or texts, send it the Observer's way by dropping a message in the comments, emailing pqueary@gmail.com, texting 206.334.1483 or Signal to Paul Queary.
---
Thanks for your attention. The Washington Observer is an independent newsletter on politics, government, and the influence thereof in Washington State. If you're not already a subscriber, please join us. It's free — for now.