Billionaire money pours into Inslee campaign through Democratic Party
More than $1 million came from just eight donors
OLYMPIA — Nearly $1.4 million in large donations from some of Washington's richest citizens has poured into Gov. Jay Inslee's campaign via a loophole in campaign finance law that allows unlimited donations to political parties and virtually unlimited donations from political parties to statewide candidates.
The Fair Campaign Practices Act, approved overwhelmingly by voters in 1992 when they backed Initiative 134, opens with some high-minded language:
"The people of the state of Washington find and declare that ... The financial strength of certain individuals or organizations should not permit them to exercise a disproportionate or controlling influence on the election of candidates," the initiative reads.
But once you get past the flowery intent language, you find that the crafters of that initiative built some pretty good side doors for big money. Direct donations to candidates are limited, but party officials, leaders in the Legislature, and independent political committees enjoy giant loopholes that effectively let wealthy donors donors write enormous checks to influence the political process.
Among the results? The Washington State Democratic Party is by far Inslee's largest campaign benefactor at $1,395,000 as of Sept. 24, according to his campaign's disclosures to the Public Disclosure Commission. And most of the cash came to the party from just eight extremely wealthy donors. Why is this important? It's about 20 percent of the total Inslee has raised. That's a lot of clout for a handful of people.
Like what you're reading so far? Please tell your friends:
Here's how the system works. Individual donors are limited to $2,000 per election for statewide candidates.* That's $2,000 for the primary and $2,000 for the general elections, so $4,000 per donor. That's still far more than the average Washingtonian can afford to cough up for something as non-essential as political spending, given that most people can't scrape together $400 for an emergency. This year, Inslee has raked in hundreds of these maximum donations. We'll get to them another day. Today we're looking at folks who use the VIP entrance.
Washington political parties can raise money for two different accounts for state offices, the "exempt" and "non-exempt." The exempt fund is so named because there are no limits on incoming donations from corporations, unions, and political action committees. However, that's so-called "soft money," which can't be given directly to candidates. For the non-exempt fund, only individual human beings can give more than $5,500 per year, but it's "hard money" that can be spent directly on candidates to the tune of $1 per registered voter eligible to vote in the election. There are currently 4.6 million registered voters statewide.
This year, the Washington Democratic Party has raised about $2 million for each fund, just under $4 million total. How are the Republicans doing, you ask? Not great. Watch your inbox Friday for a look at the state of GOP fundraising in Washington.
The Democrats' soft money comes from organizations that are major players in Democratic politics. The Democratic Governors Association (Inslee is a former chairman) is in for $600,000, the Washington Education Association, the powerful union that represents most of the state's teachers, is in for $450,000, two different arms of the Service Employees International Union gave a combined $320,000, and the Washington Federation of State Employees chipped in $175,000. But none of that money can go directly to Inslee or any other candidate, although it can be spent to promote the Democratic ticket as whole, on get-out-the-vote efforts, voter registration, and so forth.
Now we come to the hard money. The $1.9 million the party has raised for that fund came almost entirely from individuals — extremely wealthy individuals.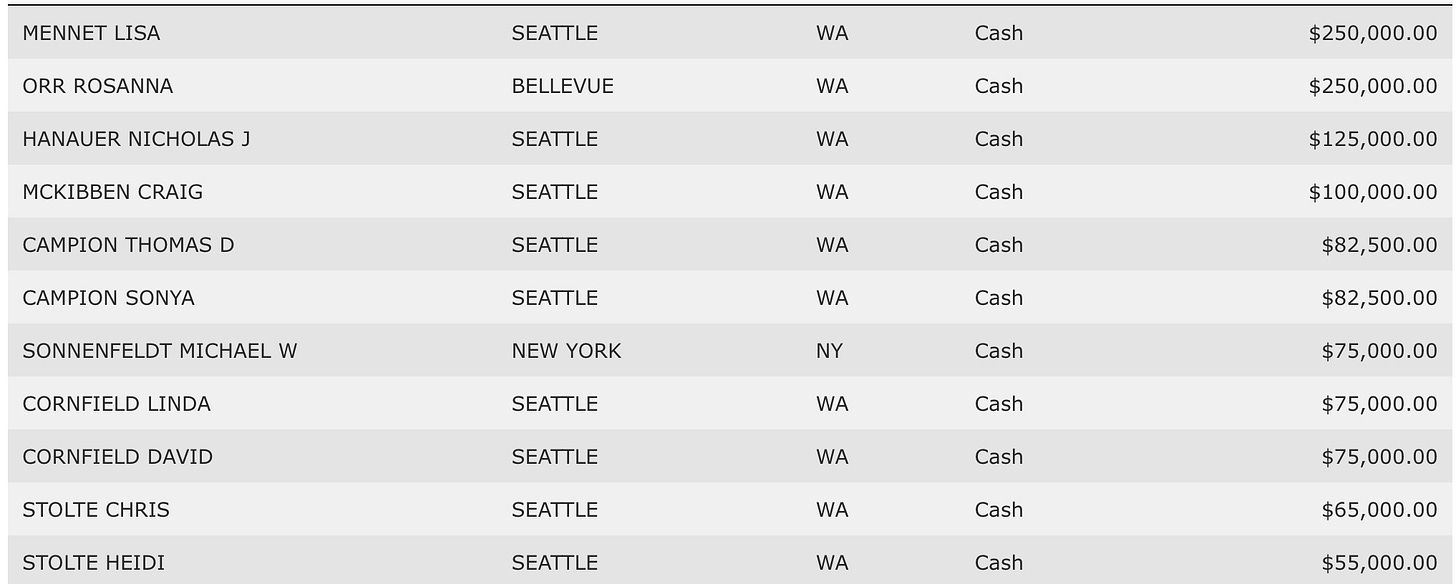 So who are these high rollers? For the most part, they're very rich people who care deeply about a cause, and give big to support it. Many, for example, have given heavily to efforts to combat climate change, the issue at the core of Inslee's political career.
Topping the list are Lisa Mennet and Rosanna Orr, who were both in for $250,000.
Mennet, an expert on child mental health and clinical director of Cooper House in Seattle, founded the Perigee Fund, which is dedicated to advancing work in the field of infant and early childhood mental health and maternal mental health.
"I made this donation to support the state party's effort to hire on-the-ground organizers," Mennet said in an email to The Washington Observer. "This is in keeping with our overall strategy of supporting Democrats up and down the ticket as well as a number of independent organizations focused primarily on GOTV and combating voter disenfranchisement."
That's an interesting response, in that she's describing what soft money pays for. She didn't respond to follow-up questions about whether she intended her money to go into the hard-money account and thus to the governor.
Other major donors, the Washington State Democratic Party, and Inslee's campaign did not respond to my questions. So we'll just go with what I could find out by digging around.
Rosanna Orr is the married name of Rose Letwin, the founder and sole funder of the Wilberforce Foundation, which supports "land, water and wildlife conservation efforts in western North America." Wilberforce has invested $217 million since it was founded in 1991, according to its website.
The foundation's grants go mostly to small conservation nonprofits in Alaska, Idaho and British Columbia. Its focus in Washington is on the Cascade Mountains, where it supports effort to reconnect fragmented wildlife habitat and bring back long-absent wildlife.
Orr's husband, James Orr, gave $250,000 to the party in 2016. In 2018, he wrote a $100,000 check to support the failed campaign for Initiative 1631, which would have imposed a $15-per-ton fee on some carbon emissions in Washington. That measure failed by more than 400,000 votes.
Coming in at third on the party's donor list at $125,000 is a more familiar name, billionaire and political activist Nick Hanauer, who bankrolls the"political troublemakers" at Civic Ventures, who advocate for, among other things, aggressively taxing the rich. Hanauer has backed a variety of ballot initiative campaigns, including $250,000 to the campaign for Initiative 1631. Further back, he gave the same amount to support 2010's Initiative 1098, which would have imposed an income tax on the state's highest earners. That measure failed by more than 700,000 votes.
Craig McKibben, a prominent philanthropist in environmentalist and outdoorsy circles, gave $100,000 to the party this year, along with $75,000 to Washington Conservation Voters. In 2018, he gave $500,000 to the campaign for the carbon fee.
Rounding out the top five are Tom and Sonya Campion, the husband-and-wife team behind the Campion Foundation and the Campion Action Fund. Both gave $82,500 to the party and have been heavy donors to the party and environmental PACs for several years. Tom Campion is a prominent supporter of environmental causes, while Sonya Campion focuses more on efforts to reduce homelessness, according to the foundation's web site.
Just behind the Campions is the only out-of-stater among the top donors, New Yorker Michael Sonnenfeldt, who gave $75,000. Sonnenfeldt is a prominent supporter of environmental causes around the country. He put $100,000 into the carbon fee initiative campaign, and has supported Inslee's campaigns directly.
So exactly what do all these extremely rich people want?
They'd like our elected leaders to do some things that are really expensive, and sometimes really unpopular.
The wildlife protection measures the Wilberforce Foundation advocates for — things like acquiring vast swaths of forest land to preserve wilderness— are enormously expensive.
The Perigee Foundation's focus on child welfare also implies spending billions of dollars more on programs that help young children thrive. Advocates for such programs argue persuasively that such spending prevents much more costly problems down the road.
Last year, Mennet authored an op-ed in The Seattle Times arguing that she and other wealthy people should be subject to a state capital gains tax, a proposal many Democrats have argued for in recent years as a start to overhauling Washington's regressive tax system and pumping more tax dollars into state programs.
"I would be in favor of a less regressive tax system," she said in response to an emailed question about whether she supports additional new taxes.
The carbon fee in Initiative 1631 would have cost Washingtonians billions via higher prices for fuel, natural gas and electricity — hence its failure at the ballot box — and spent it in a broad variety of ways with the aim of reducing carbon emissions. Activists on this issue also argue persuasively that carbon pricing is necessary to drive down fossil fuel usage to combat climate change.
Ending homelessness in Washington State is likewise enormously expensive. City officials and nonprofits in Seattle have spent heavily on the problem for years now, only to watch it get worse.
All of these issues — regardless of the moral case for them — imply spending money that Washington State didn't really have before COVID-19 punched a big hole in the state's revenue. So perhaps the party's money is designed to stiffen Inslee's resolve to seek new taxes to pay for these priorities, and signal that more money would be available to defend those taxes at the ballot box a year from now?
Another question the party and Inslee's campaign didn't answer: Why spend so much of the party's hard money — a valuable resource — on Inslee, who looks certain to win easily? Even before the crowded primary provided him an ideally weak challenger, Inslee faced an easy path to reelection. Democrats enjoy an ever-greater structural advantage in Washington, and Donald Trump at the top of the ticket would likely be an electoral death sentence for even the strongest Republican challenger.
The actual challenger, Republic Police Chief Loren Culp, not the strongest.**
So why not spend the money on a concerted effort to fill the Legislature with like-minded votes? There's an argument that a landslide win for Inslee would give him coattails down the ticket and a stronger mandate for bold action on his proposals. It'll be interesting, come December, to see how many of his biggest donors' priorities show up in those proposals.
---
*Conflict of Interest Disclaimer 1: In 2012, when I was a strategic communications consultant, I wrote wrote two checks to Inslee's first campaign for governor, one for $125 and one for $208. I have no idea what that eight bucks was about.
**Conflict of Interest Disclaimer 2: KOMO's recent poll on the governor's race was conducted by Strategies 360, where I worked until November 2019.
Thanks for your attention and support. If you're not already a subscriber, please sign up.
If you already subscribe, tell your network about The Washington Observer.