$500K in oil money, big bucks from Lyft, builders, Realtors fuel pro-business PAC network
Enterprise Washington and its subsidiary PACs target four tight state Senate races
Two big oil companies, Texas-based Phillips 66 and Tesoro, got the party started this spring with a combined $500,000. Other big corporate names followed: Lyft, Chevron, Walmart, Koch Industries, BNSF Railway and the tobacco giant Altria.
And there are homegrown players: Amazon, Puget Sound Energy, the Washington Association of Realtors, the Building Industry Association of Washington, the landlords at the Washington Affordable Housing Council. Meet the donors to the network of political action committees known — but not widely known — as Enterprise Washington.
Enterprise Washington has actually been around since 2008, according to its disclosures to the Public Disclosure Commission. But they're low-profile except when it comes to political spending. The web site's still "coming soon." The only public messaging The Washington Observer could find is on a sparse LinkedIn page:
"Enterprise Washington is committed to working with the state's business community to establish a more business-friendly Legislature in Olympia," it reads. Paul Graves, the organization's president, didn't return a message from the Observer.
Following the money as it flows through Enterprise Washington and its eight associated PACs* gets a little convoluted, so bear with me:
Enterprise Washington PAC itself has taken in more than $775,000 this year, almost two-thirds of it from those two oil companies. Both operate refineries in Washington State, Phillips 66 in Ferndale, and Tesoro (now merged with Marathon Oil) in Anacortes. The refineries are major suppliers of gasoline, diesel and jet fuel for the Pacific Northwest, among the largest employers in their communities, and some of the biggest emitters of carbon and other pollutants in the region. So they've got skin in the game in Washington politics. And they've been playing defense in recent years as Gov. Jay Inslee and environmentalists have pushed aggressively — but thus far unsuccessfully — for various forms of carbon taxation.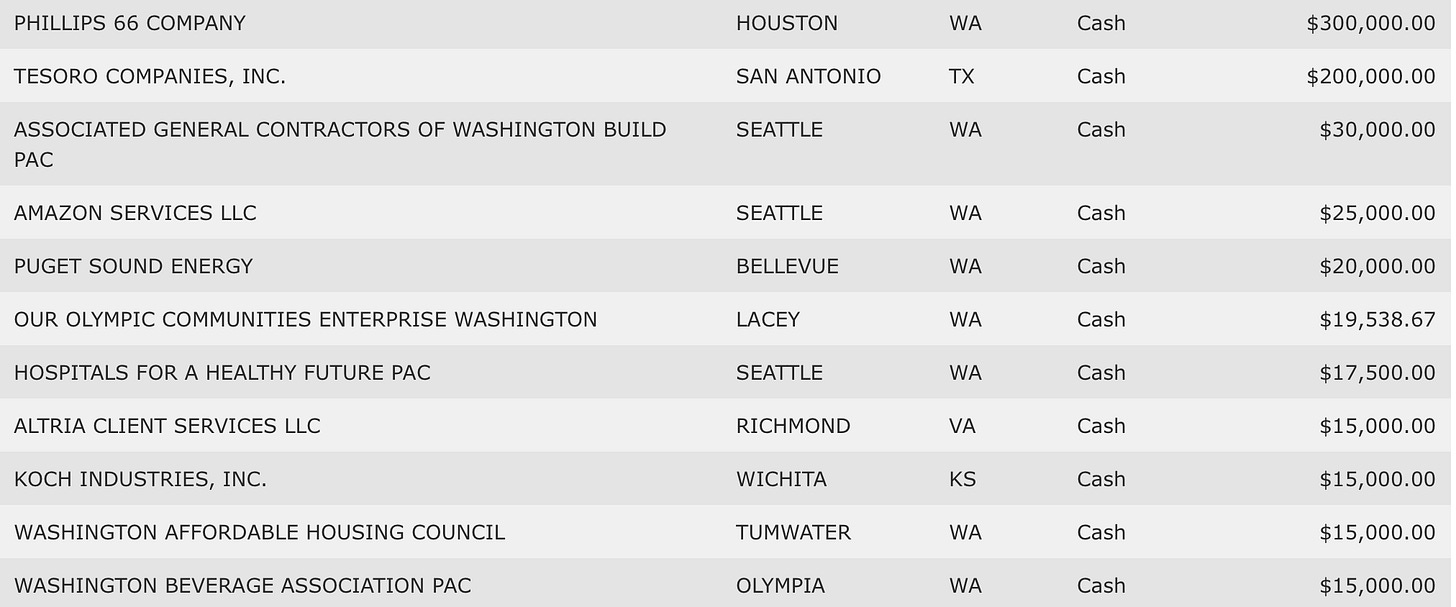 Enterprise Washington's money went two basic places:
Nearly $200,000 got spent with six research firms. Four of the firms are pollsters, three Republican-leaning, one associated with Democrats. Two of the firms, these folks and these folks, are opposition researchers — diggers of dirt, finders of secrets, procurers of the scary factoids in those campaign mailers you may be getting. That's enough money to yield good polling data and useful research in most of the close races for the Legislature this year.
About $380,000 got shipped to the subsidiary PACs. The biggest beneficiary was People For Jobs, which got $261,901 thus far. People For Jobs spent $155,000 trying to sway voters in the 25th District — think Puyallup and surrounding parts of Pierce County — to chose Republican Rep. Chris Gildon over Puyallup Mayor Julie Door for an open state Senate seat. PACs can spend unlimited amounts of money on these races, provided they don't coordinate with candidates.
Another $90,000 went to support Sen. Ron Muzzall, R-Oak Harbor, who is trying to fend off a challenge from Island County Commissioner Helen Price Johnson in the 10th District. For more on the money pouring into these races, check out our story about the surplus money shuffle.
Other Enterprise Washington-affiliated PACs are pulling in donors of their own. East King County Jobs, for example, is funded almost entirely by Washingtonians For Independent Work, which is a creation of the ride-sharing company Lyft, as the Observer reported a while back. They've spent some $175,000 trying to protect Sen. Mark Mullet, a moderate Democrat, from union-backed progressive challenger Ingrid Anderson.
South Sound Future pulled in $175,000 from the Realtors and $10,000 from the Washington Food Industry Association. Nearly all of it was spent against Door in the 25th District race. The Realtors like to play hardball, and Gildon is himself a Realtor.
Sound Jobs had a different but overlapping set of donors, led by the Building Industry Association of Washington, the political arm of the state's homebuilders. They've raised $185,000:

So far they've spent about $77,000, all of it against T'wina Nobles, the Democrat challenging Republican Sen. Steve O'Ban in 28th District in Pierce County.
Here's why this is important. Three of the four Senate seats targeted by Enterprise Washington and its affiliates are currently held by Republicans. Mullet is considered the most conservative member of the Senate's Democratic majority. If he were to lose, and Democrats claim the other three seats, it would represent a significant leftward shift in the Senate, a major win for progressives. That's an alarming prospect for many in the business community, especially if your business is an oil refinery.
---
*These are the PACs associated with Enterprise Washington: People For Jobs Enterprise Washington, Citizens For Progress Enterprise Washington, Our Olympic Communities Enterprise Washington, North Cascade Jobs Enterprise Washington, Southwest Communities First Enterprise Washington, South Sound Future Enterprise Washington, East King County Jobs Enterprise Washington, and Sound Jobs Enterprise Washington.
---
Thank you for your attention. The Washington Observer is an independent newsletter covering politics, government and the influence thereof in Washington State. If you're not a subscriber, please join us. It's free — for now.